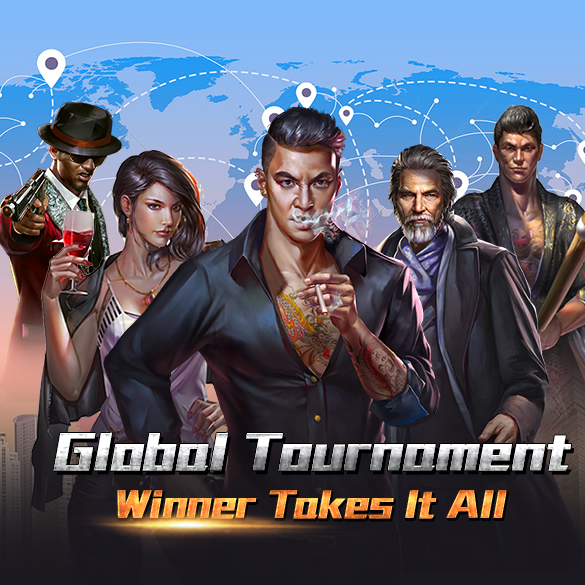 The ashes of City Tournament have beginning to settle, but the true flight to ultimate Glory has only just begun! Global Tournament is the spot light of the world, a place to demonstrate your Power, your Tactic, your Crew Attributes and most importantly YOUR LIMIT!
Only the strongest of the strongest can survive Mafia City. Fight fire with fire and become the King of Mafia! There is even a surprise gift for the Strongest Mafia Leader of this Tournament.
Event 1: Single Recharge Limit! Global Domination!
Event Time: 2018/03/17 00:00:00——2018/03/20 23:59:59
Event Area: All Cities
Event Info: During the event, rewards can be obtained if each daily Single Recharged Gold reaches the specified amount
Reward will be sent on Weekdays! (Example: Reward for the 17th and 18th will be sent on the 19th)
(Daily Limit: 2 Times) Single Recharge (1000~1999 Gold) and obtain:
"150K Cargo*3+150K Cash*3"
(Daily Limit: 5 Times) Single Recharge (2000~3999 Gold) and obtain:
"2-Hour Building Speedup*3+500 Gold*1+500K Cargo*1+500K Cash*1"
(Daily Limit: 5 Times) Single Recharge (4000~9999 Gold) and obtain:
"2-Hour Building Speedup*5+2000 Gold*1+500K Cargo*2"
(Daily Limit: 5 Times) Single Recharge (10000~24999 Gold) and obtain:
"Single Crew Training Capacity (+2000)*1+2-Hour Training Speedup*5+300 Godfather's Coin*1+ Roadster Club (Normal) Point 100*1+1.5M Cargo*1"
(Daily Limit: 10 Times) Single Recharge (25000 or more Gold) and obtain:
"Single Crew Training Capacity (+5000)*1+2-Hour Training Speedup*10+600 Godfather's Coin*1+ Roadster Club (Normal) Point 200*1+1.5M Cargo*1"
Exclusive Privilege, Growth Fund, Monthly & Weekly Pack and Rebate Gold are excluded from Event
【Event Reward will not conflict with the Daily Recharge Bonus】
(Example: during the event, a leader recharged 34 of the $99.99 USD in 1 day, then he/she will be able to collect 10 of the Single Recharge (25000 Gold) Reward along with choosing 3 of the $99.99 USD pack FOR FREE)
【Mafia City Studio】
2018.3.17