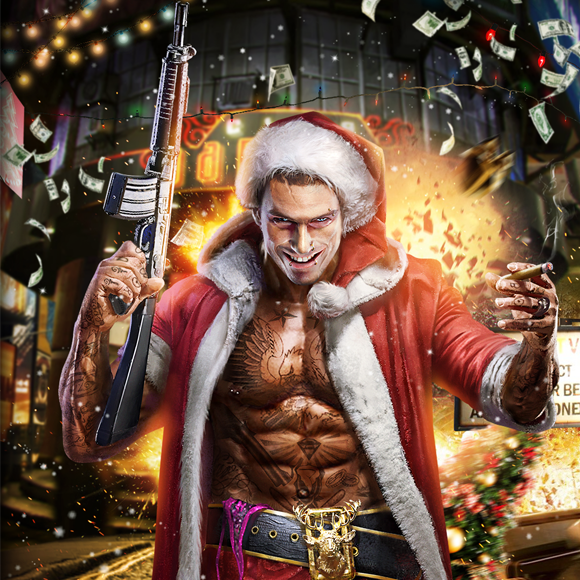 On the eve of Christmas, the shopping districts were filled with joy and laughter till a sudden gunshot followed by the voice: "I am Nick! Hahaha!". Soon the stores were all swept clean of all goods; but on the following day, numerous runaway kids awoke with goods from that incident
Nick was an Orphan and he likes kids very much. When he was little, he was adopted by Maroni for the purpose of experimenting on the newly found Strengthen Steroid, which evidently turned him into a madman. But later recovered his sanity in an accident where boss saved him. Although he is no longer a madman, but the seed of madness still remains within him. Thanks to your help he has managed to escape from Maroni on various occasions; although you have trouble controlling him at times but you believe that deep down, he is a good hearted person.
Thanks to his Strengthened body, Nick insight towards Bulker enhancement is on a whole new level; also due to his personality, made tends to following him willingly.
★Must Unlock Nick To Obtain Skill & Increase [Bulker Health By 5%]
★★Reach 2 Star & Lead Ops To Increase [Bulker Attack By 20%]
★★★Reach 3 Star To Increase [All Vigilantes' Stamina By 30]
★★★★Reach 4 Star & Lead Ops To Increase [Crew Defense By 15%]
★★★★★Reach 5 Star & Lead Ops To Increase [Ops Capacity By 15000]; max level can increase!
Strong & Invincible! Just Purchase the "Wicked Saint Nick Pack" to unlock Vigilante Nick!
Have fun gaming!
Mafia City Studio