Black Friday Mania
Event time: ends on 23:59, Nov 26th, 2021 (City time)
The Black Friday Purchase Rush has officially started! Miss out today and you'll be waiting till next year!
The specific details of the event are listed below, read carefully so that you don't miss a thing!
Mafia Flash Sales (time-limited, refreshes hourly)
During the event, you may tap the "Go To Flash Sale" icon in the event interface to check the exclusive packs.
The Pack discounts are enormous as compared to ordinary Packs, hurry and grab them before they're sold out!
2X The Benefit: [Black Friday Premium Box] (time-limited, refreshes hourly)
During the event, buy the corresponding pack price to receive a box via mail, and open the box for Premium Rewards!
Tiers related: 4.99, 9.99, 19.99, 49.99, 99.99 (USD)
The remaining amount of the [Premium Box] can be seen in the event interface and will reset once an hour.
3 Grand Prizes: Buy a 99.99USD Pack for Bonus Rewards!
The [Black Friday Decor Surprise Box] contains a brand new decoration! That means you will have a chance of getting yourself a Permanent Turf by just making one purchase!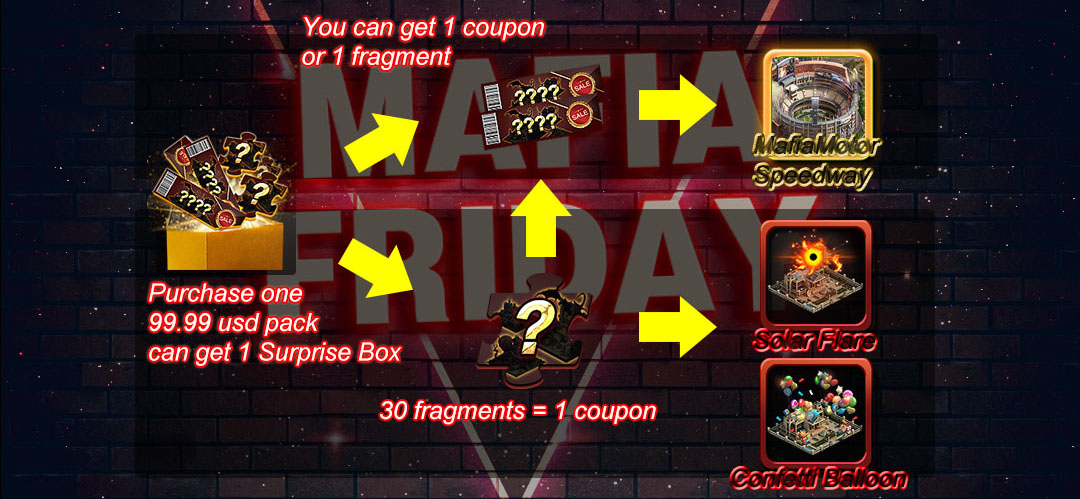 This Shopping Spree Extravaganza was meant for you, BOSS! Hurry And Get The Party Started!
Informant S