Players should never forget about the VIP feature in the game. Through the VIP feature, players will be able to get loads of Exclusive Privileges.
Let's go over this!
There are all together 20 VIP Levels. After a player has reached VIP10, SVIP1 will be unlocked. This will go all the way up to SVIP10. Below you can find some of the unqiue Buffs a player can get from the different VIP Levels:
VIP3: VIP3 Exclusive Pack Unlocked
VIP5: Preset Formations +2 (tap the butler standing with your troops in base to reset your team)
VIP8: unlocks an extra Crime Ops
Unlocks the Babes' "Advanced Gaming" feature,
unlocks the Plantation's "Plant All" feature.
players will be able to exchange Emblems in bulk.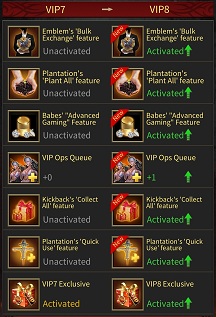 VIP9: Crew Attack and Defense are increased by 10%% and unlocks the Roadster Club's "Buy All" feature.
VIP10: The "Training's Item Speedup" feature unlocked, players can train troops with preset speedups directly;
"Use All" feature for Buff Items unlocked, players will be able to activate multiple buffs at the same time now;
Crew Health is increased by 15%%, Hospital Capacity increased by 30%%;
The Babe's "Gift All" feature unlocked
Casino's "Auto-Spin" feature unlocked.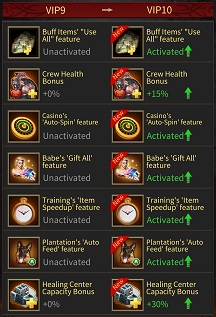 SVIP1: Raid Capacity is increased by 10K, 2 extra Gem Making Queues added, the ability to make the search bar in the City give priority to Resource Tiles with better resource unlocked.
SVIP2: You will be able to skip the Casino's "Animation" feature 200 more times and unlock the Lucky Poker's "Flip All" feature;
The Anonymous Announcements Feature unlocked, you can hide your name in system announcements now;
The "Speedup All" feature and the Healing Center's "Quick Access" feature will also get unlocked.
SVIP3: Unlocks the Roadster's "Switch" feature
SVIP4: Unlocks the Babe's "Auto-Play feature; New Skill Set activated, players can switch skill set quicker now.
SVIP5: Unlocks Blue Quality Gem Making features, the Slammer's "Auto-Break" feature and the Pawnbroker's "Synthesize All" features
SVIP6: Unlocks the ability to freely switch Skill Sets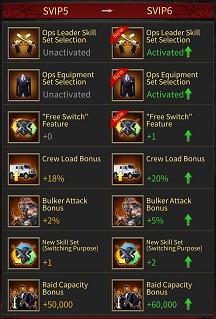 SVIP7: Training Speed +15%% , Shooter Attack+5%%
SVIP8: Increases Crime Ops Capacity by 5K
SVIP9: Incrases Biker Attack by 5%%; unlocks babe game's 'Auto-Play' Fast Forward
SVIP10: Unlocks the "Buy All" feature for the Plantation Store;
Unlocks Super Raids feature;
Unlocks the "Quick Exchange" feature for Emblems;
Note: You can go to the VIP Interface every day to sign in and collect free VIP Point Items.
SVIP Store Unlocked At SVIP10:
Lv. 1: Resource Items, 8-Hr Speedups, Rare Emblem Chests, and Family Tokens
Lv. 2: Family Gold, Advanced Ops Accelerations, Roses, Crime Ops Capacity Bonuses, and Premium Gem Boxes
Lv. 3: Latent Energy and Godfather Coin
Lv. 4: Advanced Teleports and Leader EXP
Lv. 5: Godfather Coin and Crime Ops Capacity Bonuses
Lv. 6: Blueprint Fragments and Normal Roadster Club Points
Lv. 7: Blueprint Fragments
Lv. 8: Single Crew Training Capacity and Defense Buffs+30%%
Lv. 9: Attack Buffs+30%%
Lv. 10: Super raid Orders
Lv. 11: Defense Buffs+35%%
Lv. 12: Attack Buffs+35%%
Lv. 13: Hitman Coin
Apart from this, you'll be able to use SVIP Points to buy Buffs. Every Level you'll be able to get Items that provide 4%% Buffs.
Mafia City Studio