During the initial phase newbie players should pay attention to Development-related Vigilantes that can help reduce Construction Time, Investment Time, and Training Time.
★Our first suggestion is [Genius Architect - Suri]. The good thing about her is that you'll be able to collect Suri Fragments from the corresponding event interface after you've leveled her to certain Star Levels. With just the fragments from the $4.99 - $99.99 USD Suri packs and the Suri-related event, players will be able to level Suri all the way to 5-Star and build faster during the initial phase!
★Our second recommendation is the VIP exclusive Vigilante, Natalie. Access to her will be available after reaching VIP 3. Her 1-Star's Skill is known for boosting [Resource Production Speed by 20%].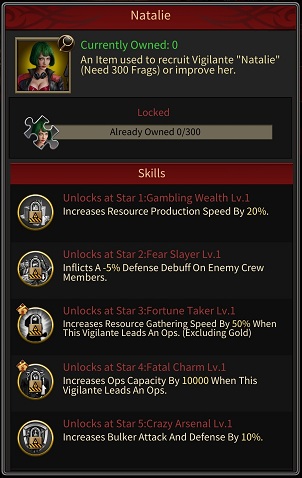 ★Furthermore, Sebastian is also a pretty awesome Vigilante to have. For example, his 1-Star's Skill can reduce [Investment Time by 10 minutes]. (Go to the Fountain → Babe's Fund → Vigilante Growth Fund to obtain)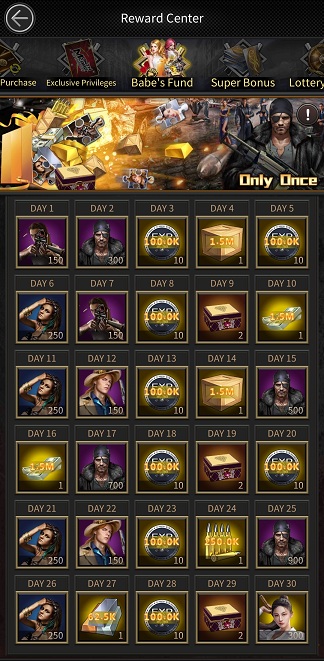 Here's a list of other recommended Vigilantes and their Skills:
Tracy's 1-Star Skill: [Increase Instant Building Time By 15 Mins]
Alice's 1-Star Skill: [Increase T1-7 Training Speed By 20%%]
Paul's 1-Star Skill: [Increase Biker Training Speed By 10%%]
Marcus's 1-Star Skill: [Increase Bulker Training Speed By 10%%]
Ethan's 1-Star Skill: [Increase Shooter Training Speed By 10%%]
Andrew's 1-Star Skill: [Increase Vehicle Training Speed By 10%%]
When you obtain Vigilante Fragments from events or packs, be sure to use them to unlock these Vigilantes.
Initial Phase suggested Goods:
1) The Rookie Packs:
They are the most worthwhile packs. The Pack contains Gold, Resources, Speedups, and other useful Items that will be helpful during the initial phase of gaming. The Pack even features a few short duration Decorations!
2)The Exclusive Privilege (Fountain →Super Bonus →Reward Center → "Exclusive Privilege"):
This can be seen as the best Monthly Pack as it not only provides you Gold and Items for 30 consecutive days but also provide you with free access to the Second Building Queue for 30 days. The latter feature will be very helpful if you want to build fast during the initial phase of gaming.
3) Subscription Benefits: (Fountain →Subscription Benefits):
This content will only last for 7 days at a time after subscribing. It will provide you with loads of Buffs and daily Rewards. Did you know? Your first time subscribing to this service is actually free of charge. If you want to cancel your subscription, you need go to Google Play/App Store to do it.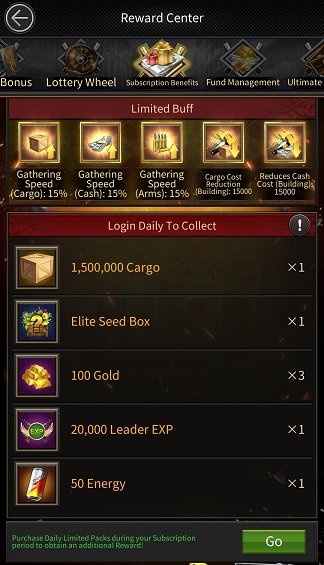 We hope you found this info useful!
Have fun gaming!