Have you seen the new event? The
[Halloween Code Event]
is here!
Some Leaders have mentioned they are a little unclear about the event's rules. I've done some investigations and managed to figure out some answers for you guys!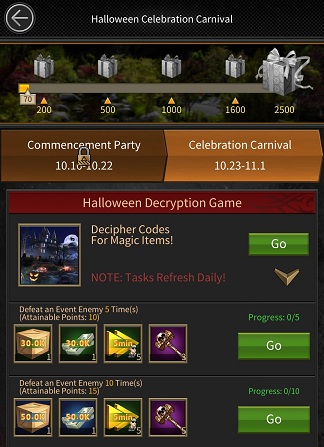 PLEASE NOTE: The Daily Tasks for the [Halloween Code Event] will be refreshed daily, so you should remember to complete them in time to get all the Rewards you deserve!
♦First, there will be a known Code every day. Leaders will need to defeat a set of enemies in a correct order in order to get a
Magic Item
.
♦
For the other five Codes, Leaders will need to do some exploring on their own. The Codes will be refreshed on a daily basis, so please pay attention to this!
PLEASE NOTE:
You can only get Magic Items by defeating the event enemies in the correct order and the Code History showing the order correctly. In the above example, if a player defeats the ghost before they try to do the known set, they will not get a Magic Item.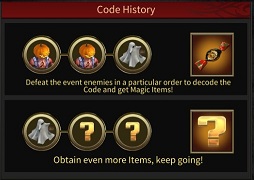 ♦If a player collects 6 Magic Items, they can combine them to get a special Halloween Item. This will get them loads of Rewards.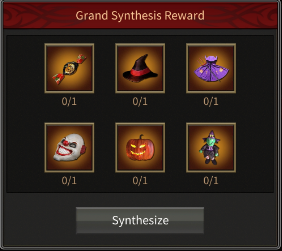 (During the second week of the Halloween event, players can defeat the event enemies a maximum of 200 times. This is not affected by how many times you've taken on the normal Street Force.)
I hope this info helped!
Your Secretary