To deal with the dangers of Mafia, it's time to enhance your Roadster!
Let's get straight into it:
Enter the Garage and select [Gadget Depot], where you can get parts:
You need to reach mansion lv. 18 to unlock the function.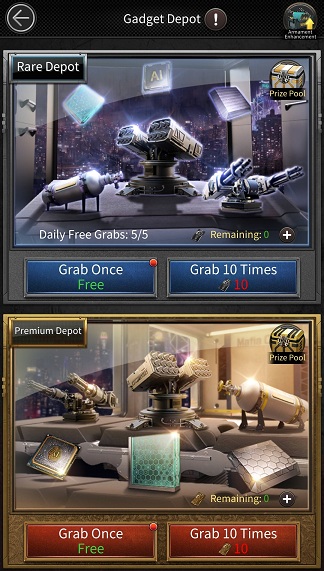 Note: You can draw from The [Rare Depot] 5 times a day for free, don't forget to collect them.
[The Premium Depot] gives you the chance to get the Ghastly Set and equipping Armament Sets can give you Set Buffs.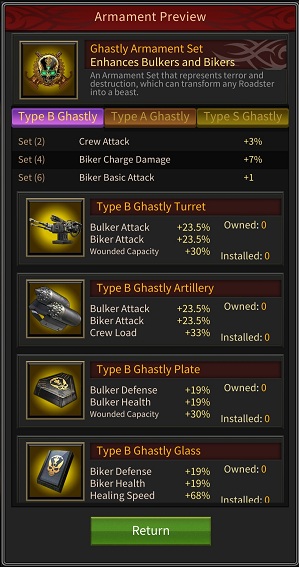 It doesn't matter what parts you get, there will all be useful.
Interface Introduction:
Armament Enhance is the page for enhancing parts. The parts come in 6 qualities: white, green, blue, purple, orange, gold, which correspond to the 6 stars above. This is where you can increase the part's EXP by combining them with other parts. After the EXP bar is full, it will increase by one star as well as change color.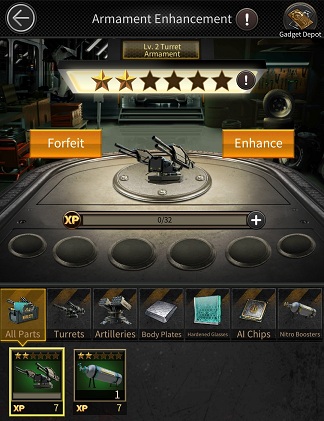 Note: After enhancing, the EXP value will decrease, so it is not recommended to enhance multiple parts at once.
For example, if you upgrade all the white parts to green, you will find that the EXP you receive from the green parts is not as good as in comparison to the original white parts.
[Armament Workshop] is the page for assembling parts. Once the parts have been equipped, they cannot be enhanced.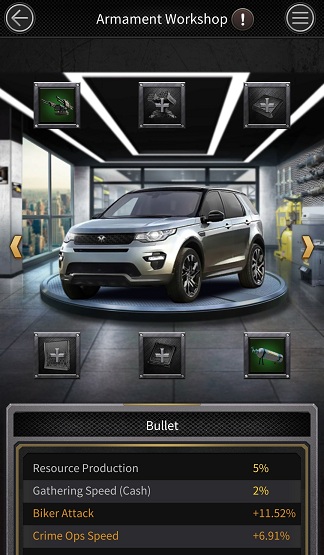 You need to go to the store to purchase the [Armament Removal Tool] before you can remove them.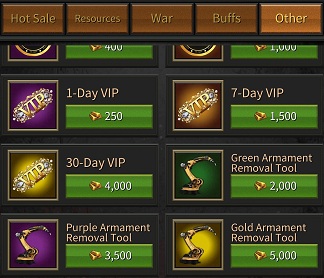 ※For this new system, Informant has some ideas of his own:
You can equip some blue and purple parts to get bonuses first, then focus on one part at a time to reduce the consumption from constantly equipping and removing parts, which will steadily improve your Roadster.
Cars are one of Man's simplest pleasures, so have fun!
Informant S